Beck's Mill Events
2022 SEASON
The mill is open on Saturday's from 11:00am - 4:00pm & Sunday's from 1:00pm - 4:00pm. The last guided tour of the day begins at 3:15pm both days. The admission fee for adults is $5.00 and children age 16 and under are free with a paid adult admission.

Beck's Mill Opens for the Season - April 2nd
Beck's Mill Clean Up Day - March 26th
Volunteers needed for our annual clean up day around the mill. Please bring bring gloves, chainsaws, rakes and tarps. The day will begin at 9:00am. The rain date will be March 26th. For more information on the clean up contact Raymond Lee at 812-883-4009.
Volunteer Training - April 9th
Interested in becoming a Beck's Mill volunteer? Join us on April 2nd at either 11:00am or 1:00pm for training sessions.
Wildflower Nature Hike - April 16th
Join us for a nature hike around Beck's Mill as we look for native spring ephemerals and wildflowers. Hikes begin at 10:30am and 12:30pm.
This tour requires pre-registration. Pre-registration is required to establish our numbers.
To sign up, email Amanda Robbins, Lawrence County Soil and Water Conservation District at This email address is being protected from spambots. You need JavaScript enabled to view it.
Let her know which hike you prefer...Hike 1 or Hike 2. Fee is $10.00.
Event sponsored by the White River RC & D Forestry
Short History of Distilling in Indiana's Black Forest - April 23rd
Join us for a short on the history of distilling in Indiana's "black forest". Presented by Alan Bishop on Saturday at 5:00pm. French Lick Winery & Distillery will be on site for the event. The Blue River Fire Department is having their own fundraiser in our parking lot. Pulled pork, chips and a drink is available for $5.00. The Blue River Fire Department are the ones that protect the mill and our neighbors if it is ever (hopefully never) needed.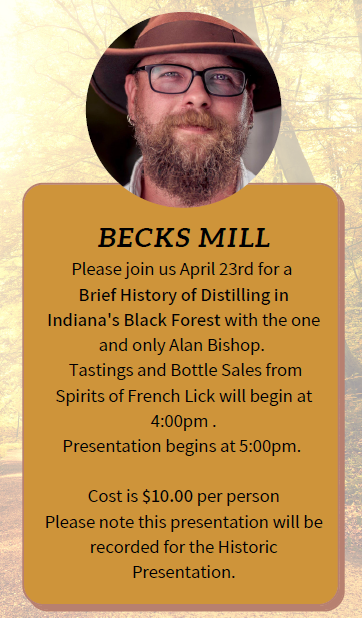 Paint Party with Resident Artist Dusty Baker - April 24th
Sunday, April 24 at 1:00 pm
Enjoy an afternoon with friends creating a beautiful painting.
11 x 14 canvas , includes supplies to complete the project and light refreshments.
This is a wonderful fundraiser for the mill. Fee $30.00 Register online: www.austys.com
May Day/Mt Carmel Chicken Barbecue - May 14th
Mt Carmel Church Chicken Barbecue proceeds benefit the mill and the Mt Carmel Cemetery fund. Dinner includes 2 sides and Beck's Mill cornbread! Many demonstrators and musicians will be announced in upcoming months . Civil War Living History with Clint Barnett. Anyone interested in demonstrating or playing music can contact Paula Bortka-Wells at 812-883-1379 or thru facebook messenger.
Beck's Mill will be honoring several volunteers that have passed away in the recent past at approximately 11:00am.
May Day Musicians Include
Kalen Carty Kemker
Caitlin Kemker, Colin Kemker
William Jaurequi, Kristan Kemker
Troy / Melanie Smith
Jared Kearschner
Daniel Main, Cale Kearschner
The Best Goes On: Tribute To Jimmie Dale Wilcoxson
Mercedez Schultz Valentina
Gary Brown
Matalei Ann
Joey Comstock
Elijah Amos
Robbie Sherman
May Day Demonstrations Include
Janet Hoke, Kara Windell - Indiana Brochures
Rita Roberts - Bradie Shrum Art Show
Marcella Campbell Mahuron - Perennial Seed Give Away
Sarah Spomer - Metal Chain Constructing
Dusty Baker - Demo Painting
Joanna Allen - Kid's Art Table
Tony Frederick - Blade Sharpener
JR Martin - Fur Takers & Hides Etc
Paula Bortka Wells - Clay Making / Pottery
Tim Wells - Apple Peeling & Samples
Brannon Wilson - Sharing Apple Slices
Mary Bortka - Making Corn Muffins
Kimberly Kearschner - Appleseed Coloring
Kara Gilstrap - Face Painting
Janet Hoke & Kara Windell - Hot Peppers
Jason Hardin - Blacksmith
Doris & Jim Pfatz - Spinners
Bill Smith / Raymond - Grist Mill Grinder
Welcome the Crosley Car Club - May 21st
Beck's Mill looks forwarding to visiting with members of the Crosley Car Club on May 21st.
Beck's Mill Canvas Paint Party - May 29th
Beck's Mill will have a fundraiser on Sunday, May 29th at 1:00pm and our subject will be the Old Beck's Mill.
I have been told that it is one of the most photographed and painted mills in the country and now you can have your own rendition of it! A cherished work of art that no doubt will be passed thru the your family's generations! Pre-register at www.austys.com. Our very own Resident Artist, Dusty Baker will instruct you step by step to help you create your masterpiece. Cost is $30.00 (includes all supplies needed) and since this is a party…light refreshments will be available! This will take place at the Mill's screened dining room.
Fiber Revival at Beck's Mill - June 25th
This event features the very rare running of both the carding machines! The Fiber Revival activities will begin at 10:00am.
The carding machines are dated to 1816 and considered the oldest in the country…only 5 of these carding machines are left to our knowledge & our 2 are the mills originals! The carding machines were restored in 2007-2008 at the Lovett Mill in Tennessee. Many demonstrations….sheep, spinning, felting, weaving, quilting, crochet , hand carding, wool dyeing, and a trail hike pointing out the different plants that were used to dye the wool. We will have free drop spindle classes with John & Doris Pfaff will be the main teachers so everyone can learn the process.
This is sponsored by Indiana University Center for Rural Engagement.
Food available from Shady Patch Farm
Car Cruise In / Mt. Carmel Chicken Barbecue - July 9th
The Cruise-In includes parking lot activities: Enjoy vintage cars and trucks from the past on the mill side: the mill will be grinding corn and mill tours will be available on a timed schedule. Chicken barbecue proceeds will benefit their cemetery and the mill.
214th Birthday of Beck's Mill - August 27th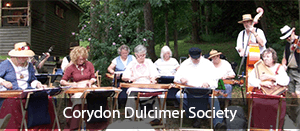 Parking Lot Activities
Craft vendors will be selling ceramics, jewelry, soaps, leather, iron works, wreaths, antiques, candle holders and food in the parking lot.… flea market items also. We have had an overwhelming response on craft & flea market vendors this year and will probably be the biggest showing ever! Mt. Tabor will provide a free hotdog meal while supplies last.
Moonshine history and skits with tommy green and the gang (note: guns firing blanks), civil war living history encampment with clint barnett, craft and flea market vendors (contact Judy at 812-896-3447).
Mill Side Activities
Special music: featuring the corydon dulcimer society, special adult admission price $2.14, Mt . Tabor Church will provide chips & cookies and birthday cake. The mill will be grinding corn, mill tours will be available on a timed schedule. We will also have a spinning & quilt demo in the mill.

The Grind VIII 5k Run/Walk - September 17th
2022 will be our 9th annual "The Grind" at Beck's Mill. Participants can register in-person the day of the run as well. More information on registration will be added. The Event is expected to begin at 9:00am..More details to come.
Oktoberfest / Cornmeal Bake-Off - October 22rd
Parking Lot Activities
Campfire beans served with beck's mill cornbread, cornmeal bake off entries can be dropped off between 11 am to noon. Judging will be at noon and each entry must have at least 1/2 cup of white or yellow beck's mill cornmeal, please use a non returnable dish and include recipe. moonshine history and skits with tommy green and the gang (note: guns firing blanks), civil war living history encampment with clint barnett, craft and flea market vendors (contact Judy at 812-896-3447).
Mill Side Activities
The mill will be grinding corn and the blacksmith shop will be in operation, mill tours will be available on a timed schedule, pioneer and craft demostrators and music, Additional displays include metal smith, woodburning artist, wooden spoon, walking stick & cane carver, Native American Artifact exhibit, Kid's art table, clay/pottery making, face painting, Johnny Appleseed & craft, Fur/pelt display, Apple peeler-free sliced apples, spinning & quilting (interested demonstrators and musicians contact Paula at 812-883-1379).
Mill Closes for the Season - October 23rd
Fall Clean-Up - October 29th
Join us for our fall clean up event at 9:00am.
---
For More information:
For any event information, contact Judy at 812-896-3447 or at This email address is being protected from spambots. You need JavaScript enabled to view it.
All events are subject to change.